(Massage for Dogs and Cats)
200 Hours (100 Hours Onsite/100 Hours Distance Education)
Course Instructor: Nick Scott, CMT/LMT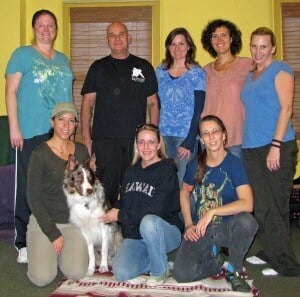 Schedule and Curriculum:
This onsite canine massage certification course is offered once every year. The onsite portion of this course is 13 1/2 days in duration with one day off midway through the course.
The 100-hour home study portion of our onsite course includes 50 hours of anatomy and physiology (lesson two of the online course). Although not required prior to coming onsite, we highly recommend that students complete the first three lessons (at a minimum) of the online course prior to attending the hands-on/onsite classes. You will only be charged the tuition for the two-week onsite course when both courses are taken.
Our program schedule may be viewed on our website calendar or please call us at (805 ) 640-9798 for more information.
The course material includes:
Canine Massage 76 hours: Covers Swedish Massage for dogs,    Myofascial Release for dogs, Trigger Point Therapy for dogs, Acupressure for dogs, TTouch for dogs, Passive Stretching for dogs. Proper charting techniques for the professional canine massage therapist will also be covered in this class.
Canine Thermotherapy 4 hours: Covers indications and contraindications for hydrotherapy, application of hot and cold packs, cryotherapy and commercially available therapy packs. This is not an aquatic therapy class but if you are looking for a swim therapy or  canine aquatic therapy class you should check with the IAAMB.
Canine Gait Analysis 4 hours: Covers canine locomotion, structural analysis, conformation of the dog, video taping of canine gaiting patterns and correct charting.
Canine First Aid 2 hours: Covers common first aid procedures for animals.
Canine Safety, Hygiene and Handling: 4 hours: Covers the basics of safe handling, simple training techniques, identification of animal behavior patterns and canine communication signals.
Canine Anatomy 40 hours: Covers canine skeletal and canine muscular anatomy. Students will be  learn the names of all of the bones in the animals body, major boney landmarks and the major muscles of the body with their origins, insertions and actions.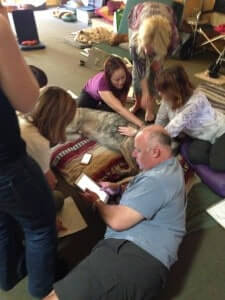 Canine Physiology 30 hours: Students will learn the functions of the eleven systems of the body and the basics of animal nutrition.
Canine Pathology 10 hours: Students will learn about the top ten canine and feline pathologies and how identify the signs and symptoms of these pathologies. Zoonoses and communicable diseases will also be covered in this class.
Canine Massage Business Development 10 hours: Students will develop a business plan and learn how to market their services. You will walk out of this class with your business and marketing plan in hand along with your business card design and gift certificates. You will learn how to develop a successful business in the field of canine masssage
Case Studies 10 hours: Students will complete 10 hours of fully charted independent case studies on at least three different dogs that are not their own so that we can see that you know how to correctly document your dog massage sessions and to get you to start working with dogs that are not your own .
Required texts:
Application of Tui-Na In Veterinary Medicine
Getting In TTouch With Your Dog
Clinical Anatomy & Physiology for Veterinary Technicians
Therapeutic Holistic Dog Massage DVD
Total Cost of Books and Materials: Approximately $200
Please buy your textbooks off of Amazon.com. You can purchase used books, other then the Dog Anatomy, A Coloring Atlas. One of your assignments will be to color in the coloring book, so please do not buy this book used. There is an ebook option for two of the books as well. The DVD may also be ordered directly from the Ojai School of Canine Massage by calling (805) 640-9798.
Cost of Tuition: $2,000
Finance Plan: Onsite students may make monthly payments, prior to coming onsite, by paying as little as $200 per month towards their total tuition cost. No finance charge will be applied. Full tuition amount is due by the first day of the onsite class.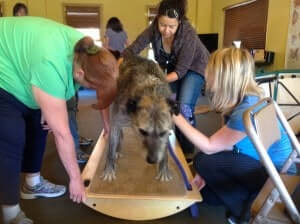 Tests
During the course there is a in-class/online test for Anatomy, Physiology, Pathology and Massage. All online tests require a minimum score of 75% to pass the class. Online tests are not timed and can be taken more than once if the student does not pass the first time. There are no required internships or externships in this class.
Test Grades are measured using percentages and are calculated below:
0-74%= Non passing grade
75%-100%= Passing grade
**THERE IS NO CALIFORNIA STATE LICENSURE REQUIREMENT FOR THE SMALL ANIMAL MASSAGE PROGRAM.
Graduation
Students completing all program requirements will receive a certificate of completion from the Ojai School of Canine Massage.
Ojai School of Canine Massage is approved by the International Association of Animal Massage & Bodywork/Association of Canine Water Therapy as an Approved Preferred Educational Provider. We are also an Approved Education Provider by the American Council of Animal Naturopathy. We are a member of the NBCAAM. We are approved by the BPPE as an exempt institution.