Mission and Objectives:
The Ojai School of Canine Massage was established in 1999. We are a community based center devoted to a holistic approach to healing. Our goal is to provide professional training of the highest quality in dog massage therapy, while enhancing the spiritual, mental, emotional, and physical well-being of each student. The Ojai School of Canine Massage strives to consistently provide a thorough and well rounded education in dog massage. Our courses are designed to provide each student with the most current information available in the dog massage field. We prepare our graduates to successfully enter the workforce as professional canine massage therapists.
We are a private institution that is an IAAMB preferred provider, a member of the NBCAAM and approved by the BPPE (as an exempt institution) to provide certificates of completion for the following programs: 200 hour Small Animal/Canine Massage program (100 onsite hours and 100 distance education hours) and a 200 hour Canine Massage Distance Education program.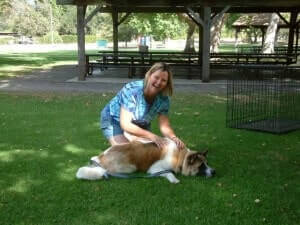 In our 200 hour Canine Massage onsite program (100 onsite hours and 100 home study hours) we teach you how to massage dogs and cats. Our onsite program includes education in dog gait and conformation assessment, professional documentation for a dog massage therapy practice, dog nutrition, business, anatomy, physiology, remedial exercise & stretching for dogs and First Aid. Students also learn a variety of dog massage techniques including canine acupressure, myofascial release, swedish massage, trigger point therapy, TTouch for dogs, sports massage and energy work for dogs. Students may bring their own dog to the two week onsite/hands-on class or OSOCM can provide a dog for you. For the safety of all pets, we require all dogs to be current with all shots, be free of fleas, and to be spayed or neutered.
Our 200-hour Canine Massage Distance Education program is a comprehensive distance learning program which includes both audio and video instruction. Our distance/online learning program is designed to help our students save time and money, while maintaining high standards of education. This certification course is designed for students who prefer the flexibility of learning a new skill from their home at their own pace. Students learn all of the massage techniques which are taught in our onsite course with the exception of First Aid. This subject is not included in the online course and is not required in order to receive your online course certification. Students may attend our First Aid class onsite or choose to take a course in their area.
Please call us at (805) 640-9798 with any questions or concerns. We look forward to speaking with you!
The Ojai School of Canine Massage is a member of the NBCAAM, Preferred Providers by the IAAMB (International Association of Animal Massage and Bodywork), and approved by the BPPE as an exempt institution. We are also an Approved Education Provider by the American Council of Animal Naturopathy.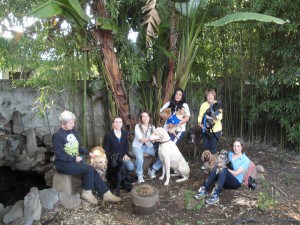 Please mail enrollment forms to:
Ojai School of Canine Massage
P.O. Box 1263 Ojai, CA 93024
Email: osom11@gmail.com
Telephone (805) 640 – 9798
Office hours: 9 AM to 7 PM (PST) Monday through Sunday.