200 hours online from your home:
Our online Canine Massage certification course allows you to learn a new profession, from your home, at your own pace. Below is a outline of our 200 hour Canine Massage Online certification course which includes audio, video and written instruction.
Instructor: Nick Scott
Email: osomhealth@gmail.com
_____________________________________________________________
Description: This comprehensive canine massage distance learning course provides high quality instructional training in the field of canine massage therapy. You will learn over 20 hands-on massage techniques which, when performed regularly, can greatly benefit the dog and help heal a variety of canine musculoskeletal and physiological imbalances. This program, as in our onsite canine massage program, is focused on therapeutic massage which requires a working knowledge of the dogs anatomy, physiology, common pathological conditions, gait/conformation, nutrition and behavior. You will gain access to an abundant amount of additional educational resources in this course.
–This course has no prerequisites. The student must have previous experience in handling canines. You need no prior knowledge of massage to take this course and succeed in the canine massage field.
-This online course allows you to learn at your own pace.
-The instructor is readily available to video, or audio, chat with you online in order to answer questions and support your learning process.
-Human massage therapists will find this course to be a great addition to their already existing massage practice.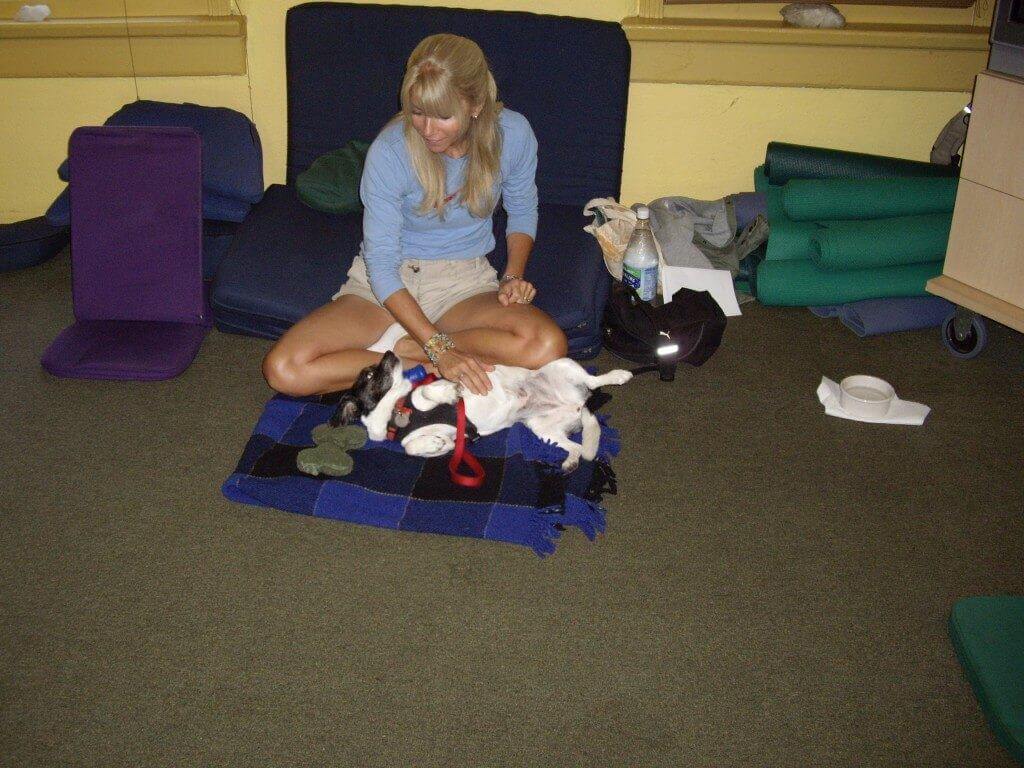 "I want to convey to you how valuable the Ojai School of Canine Massage course has been in my life. I am now teaching full time at the National Holistic Institute. The time I spent in your course, working with animals, has been invaluable in appreciating the value of energy focused work. Shortly after finishing your course my son's dog was hit by a car, dislocating his humeroulnar joint. The lessons from your course have been invaluable in his rehabilitation and EASILY paid for the dollar value of the course by easing his path to recovery. I often convey, to my current massage students, the rich lessons to be learned from your course and the many diverse benefits of working with animals. BLESS you!"      Edward S.                                                                                               
Organization of the Online Canine Massage course:
This course includes 12 lessons which may be completed at your own pace. Upon completion of this course, students are required to demonstrate their knowledge of the hands-on techniques learned.  A Skype option may be chose for this students who are unable to come to the school for the onsite/hands-on demonstration. Please call us for more information.
Each lesson includes written instruction (with diagrams) explaining each hands-on canine massage technique, including its benefits and any contraindications for the massage stroke. Following the written lecture are hands-on video demonstrations of each massage technique and how to do it on the dog. Following each video demonstration are audio meditations designed to help you focus and relax in preparation for your next lesson. These meditations will help you learn to tune in to the dogs mental, emotional, physical and energetic state.
A homework assignment is included at the end of each lesson and is designed to help you learn each technique by practicing it outside of class. It is suggested that you take time to practice the information presented in each lesson, therefore one lesson per week is recommended.
Course Objectives:
Provide students with a well rounded education, in canine therapeutic massage, so that they can succeed in the business of canine massage. To prepare the layperson, who just wants to learn more about their dog,  learn how to apply professional canine massage techniques on their dog.
Provide students with deeply relaxing breath and meditation techniques to help promote you and your animals relaxation, and prepare you for the hands-on healing journey.
Introduce specific canine massage techniques designed to ward off stress and illness, improve flexibility and promote you and your animal companions overall health.
Gain a new skill or complement your current work with canine massage.
Experience the transformative effects of healing massage for both you and your canine friends and enhance the powerful bond between you.
Assess and understand how proper nutrition relates to various health conditions and how to choose the correct diet for the specific dog.
Help your canine companion, and other dogs, to live a balanced and healthful life and ensure their liveliness and longevity.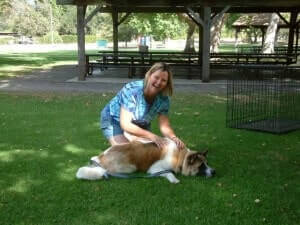 Required Textbooks & DVD:
Getting In TTouch With Your Dog
Clinical Anatomy & Physiology for Veterinary Technicians
DVD: Therapeutic Holistic Dog Massage 
Please buy your textbooks off of Amazon.com. You can purchase used books. One of your assignments will be to color in the Dog Anatomy, A Coloring Atlas book, so please do not buy this book used. There is an ebook option for two of the books as well. The DVD may also be ordered directly from the Ojai School of Canine Massage by calling (805) 640-9798.
Total Cost of Books and Materials: approximately $200
_____________________________________
Tuition Cost: $1,650 when paid in full. Monthly payments for as little as $200/mth. when choosing a finance option.
$1,650 when paid in full
$1,750 with payment option
** All students attending the onsite course, in full, will receive the online course (lessons 1-12) at no additional cost. Payment is due prior to receiving any online lessons. Students opting for the Online certification course, may also come onsite for all, or a portion, of the onsite course. A daily rate of $125 per day will apply with total tuitions (for onsite and online courses) never to exceed the onsite tuition cost.                                                                                                                                                                                                                                                                                                                                                                                                       
Course Syllabus: A 200-hour online Canine Massage Course                                                
Home Page
Course contents
Testimonials
About Nick Scott, Instructor
Lesson 1  – Preparation for Touch/Starting the Journey
Medical Charting/Contraindications and Precautions for canine massage.
Silent Meditation Instruction and Hand Energizing video
Lesson 2 – Anatomy and Physiology – 50 hours
Reading Assignment followed by an online test following each chapter.
Textbook:  Clinical Anatomy & Physiology for Veterinary Technicians; Colville ISBN-13: 978-0323227933
Lesson 3 –  Canine Swedish Massage
Swedish stroke definitions and contraindications
Video demonstration-Swedish strokes
Meditation preparation and audio
Lesson 4 – Canine Trigger Point Therapy
Definition/Description of trigger point therapy
Video demonstration (Human demonstration and dog massage demonstration)
Sound Meditation description and audio
Lesson 5 – Canine Acupressure
Description and diagrams of canine acupressure.
Video demonstration af the various canine acupressure techniques.
Taoist Meditation descriptions and audio.
Lesson 6 – Canine Myofascial Release 
Definition/Description of canine myofascial release.
Video demonstration
Mirror Meditation
Lesson 7 –  TTouch For Dogs One      
Description and Origination of TTouch massage
MassageDescription/Diagrams/Uses of 11 TTouch strokes.
Video demonstration of 11 TTouch strokes
Breath Cleansing Video
Lesson 8 – TTouch For Dogs Two
Description and uses for 8 additional TTouch massage strokes
Video demonstration of 8 additional TTouch massage strokes
Pranayama meditations and audio
Lesson 9 – Canine Stretching Routines
Description/Uses/precautions for stretching the dog
Video demonstration
Candle and Dream Meditation
Lesson 10 – Orthopedic Pathologies
Lesson 11 – Business as it relates to the field of Canine Massage.
Lesson 12 – Nutrition 
 "Regular massage is an effective way to contribute to the well-being of animals and help them live in a balanced and healthful way while enhancing the loving, trusting bond between us."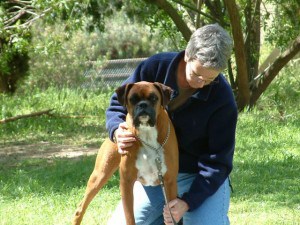 Suggestions-
 ** Please feel free to contact me if you require help, or if you have questions or feedback regarding the course. Please send email correspondence to Nick Scott at  osomhealth@gmail.com. Thank you!