Mission and Objectives:
The Ojai School of Canine Massage is a community based center devoted to a holistic approach to healing. Our goal is to provide professional training of the highest quality in dog massage therapy, while enhancing the spiritual, mental, emotional and physical well-being of each student. The Ojai School of Canine Massage strives to consistently provide a thorough and well rounded education in dog massage that includes education in dog gait and conformation assessment, dog anatomy, dog physiology, professional documentation for a dog massage therapy practice, dog nutrition, remedial exercise and stretching for dogs and a variety of dog massage techniques like canine acupressure, myofascial release for dogs, Swedish massage for dogs, trigger point therapy for dogs, TTouch for dogs, sports massage for dogs and energy work for dogs. The courses are designed to provide each student with the most current information available in the dog massage field. We prepare our graduates to successfully enter the workforce as professional canine massage  therapists. The Ojai School of Canine Massage maintains standards that provide a clear framework for preparing students to work in their desired vocation.
We are a private institution that is an IAAMB preferred provider, a member of the NBCAAM and is approved by the BPPE (as an exempt institution) to provide certificates of completion for the following programs:  200 hour Small Animal/Canine Massage program (100 onsite hours and 100 distance education hours) and a 200 hour Canine Massage Distance Education program (150 hours online/50 hours  lecture from your home).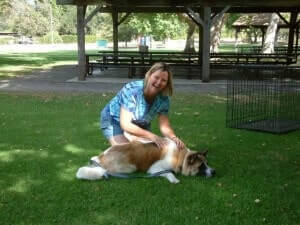 In our 200-hour Canine Massage onsite program, we teach you how to massage dogs and cats. This program includes 100 onsite hours and 100 home study hours. The home study hours include 50 hours of online lecture from your home computer.
As we celebrate our 16th anniversary, we are moving into the future with new distance/online learning programs designed to help our students save time and money while maintaining high standards of education. Our 200-hour Canine Massage Distance Education program is a comprehensive distance learning program. This course includes all of the hands-on dog massage techniques covered in our onsite course and includes both audio and video instruction. This certification course is designed for students who prefer the flexibility of learning a new skill from their home at their own pace.
We encourage all our prospective students to view our website/online catalog (below) prior to enrolling. Please review the information for the program for which you are interested in enrolling. Also, please call us with any questions or concerns. We look forward to speaking with you.
Please RSS feed this site if you would like to remain updated on changes and additions which happen on a regular basis.
**The Ojai School of Canine Massage is a member of the NBCAAM and the IAAMB (International Association of Animal Massage and Bodywork). We are preferred providers with the IAAMB.
We are also an Approved Education Provider by the American Council of Animal Naturopathy.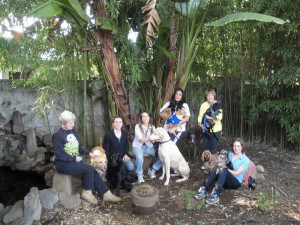 Ojai School of Canine Massage
P.O. Box 1263 Ojai, CA 93024
Email: JLR.osom@gmail.com
Phone: (805) 640 – 9798
Office hours: 10 am to 6 pm (PST) Monday through Saturday.