Nick Scott is a founder, Instructor, and Associate Director of the Ojai School of Canine Massage; offering professional massage training and certification for Small Animals (Canines and Felines). Nick is an authority in the holistic healing field and the creator of the, IAAMB and NBCAAM approved, Small Animal massage certification program at the Ojai School of Canine Massage. He has trained hundreds of people in both Canine and Feline massage therapy over the last 18 years.
Nick graduated, in 1986, from Desert Institute of the Healing Arts, one of the premier massage schools in the nation. In 1988, he graduated from Educating Hands School of Massage with additional training in Hydrotherapy. He then studied Chinese Acupressure and Dit Dar treatments with Augustine Fong and went on to study Attentive Physical Transformation with Gregory Johnson. Nick has been presenting workshops and teaching massage therapy classes since 1989, and has taught advanced massage classes at Educating Hands School of Massage. Nick produced and is featured in his top selling DVD, Holistic Dog Massage. This educational DVD covers many of the techniques covered in his classes, as well as other highly effective therapies. In addition, Nicks Holistic Dog Massage DVD comes highly recommended by top-selling author and dog trainer, Tamar Geller, personal dog trainer for Oprah Winfrey.
Nick Scott is a dedicated leader, teacher, and a gifted healer who believes in the power of touch as a powerful healing tool for both humans and animals. Nick loves sharing his knowledge with others and with the world as a whole. We hope that you and your animal companions will benefit greatly from the information relayed in his classes.
"I believe that, for all living beings, the power of love is the most effective force for healing. Through a peaceful mind, the clear light of joy can shine impartially on all who suffer. My hope is to help pass on the knowledge of compassionate action that my teachers so kindly shared with me. "
– Nick J. Scott

Jamie L. Roth is a founder and Director of the Ojai School of Canine Massage. She studied pre-physical therapy at Georgia State University, and received her bachelor's degree in liberal arts in 1985. Jamie went on to earn her massage therapy certification in 1991. While integrating her vision of holistic health into her massage practice, she is dedicated to furthering her knowledge of the healing arts for body, mind, and spirit. In 1999, Jamie opened the Ojai School of Canine Massage, along with Nick Scott. In taking on the administrative duties of this school, Jamie has focused her energies on enriching the curriculum and assisting students in discovering and actualizing their life work.
"I gratefully acknowledge all of you who have recognized the unique healing potential of massage. I am also grateful for our main instructor, Nick Scott, who superbly conveys the schools message through his depth of wisdom. We hope to share with you, and your canine companions, the fulfilling gifts of health, healing, and vitality. We look forward to the opportunity of providing for you a nurturing environment where you may acquire both in-depth knowledge and a balanced and peaceful spirit of healing."
– Jamie L. Roth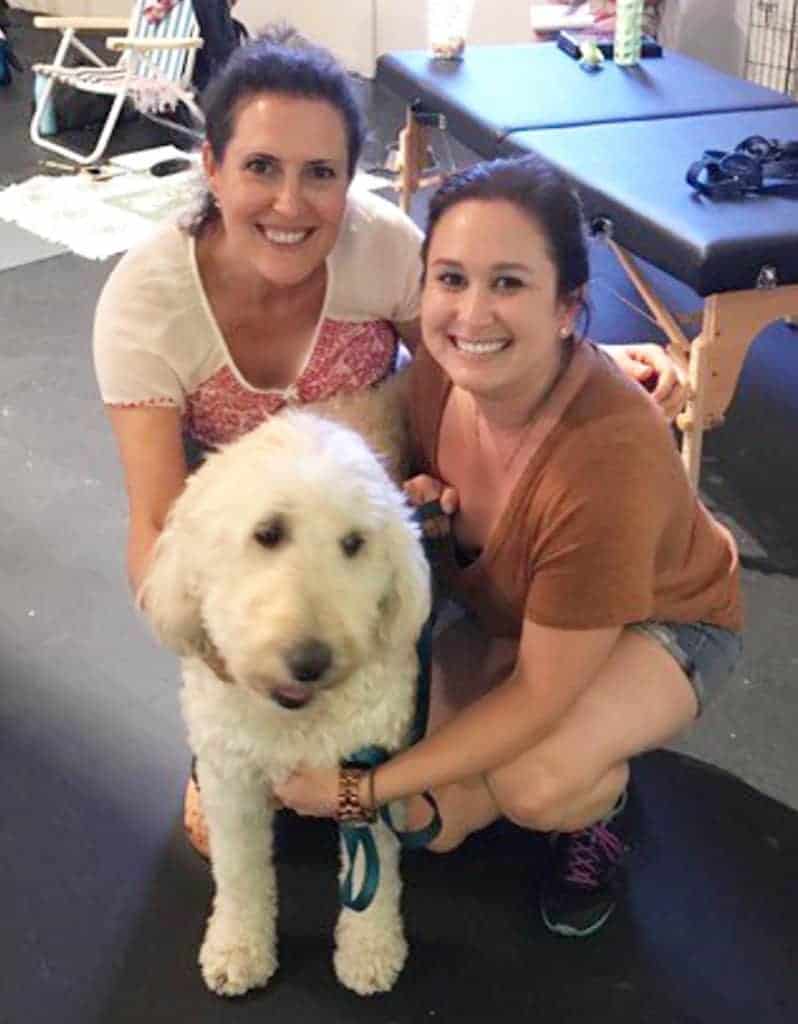 Jamie (L), Renee (R), Ginger (Dog love)