-Supplemental Reading Material-
The most complete information on canine gait and movement available in video format. Includes anatomical diagrams and film clips of still and moving x-rays which provide a look at bone and joint motion inside the dog. Illustrations throughout the DVD emphasize the importance of sound structure and show how serious deviations may affect efficiency and endurance. Highly recommended for every serious dog fancier and every breeder to help produce structurally sound pups.  Click here for Video on Demand.
The Dog in Action is the finest technical book on dog movement ever written! With each reading you learn something new and profound. The more dog-knowledge you have, the more you will glean from the material.  Click here fore eBook.
Have you ever wondered how dog show judges learn to identify the subtle differences that separate a dog that is merely good from a dog that is outstanding? Now you can develop your own eye for sound movement and structure and learn how markings, size, and even leash position affect the judge's perception! In An Eye for a Dog – Illustrated Guide to Judging Purebred Dogs you will get to actively participate in over 100 judging scenarios similar to what a judge encounters in the show ring.
What's Your Angle is made up of two parts: The first part consists of the author's six step method that teaches the reader how to easily see canine angles.  This unique method takes the reader through a step by step process to identify and mark each important point on the dog. This will help train the reader's eyes to see the angles. With practice, this process will become second nature, as will the ability to analyze canine structure at a glance. The second part of What's Your Angle explains what the angles mean and how they singularly and in combination, affect the way a dog moves, jumps, turns and accelerates. Whether you want to know more about structure before you start a search for your next dog, or just want to know more about the dog you have now, What's Your Angle will open your eyes to a whole new world of seeing structure for the performance dog.
Training classes are perfect for some – but not for others. If you would like to train your dog between putting the kettle on and making a cup of tea, or want to practice what you already know during the commercial breaks on TV – these methods are ideal for you. This booklet is designed to help you teach your dog or puppy the basics for everyday living.  Click here for eBook.
Barking is natural and almost all dogs bark. It is one of the many ways dogs communicate with each other as well as with humans. In this book, author Turid Rugaas, well known for her work on identifying and utilizing canine calming signals, turns her attention to understanding and managing barking behavior. Think of barking as your dog's language. By learning to identify what your dog is expressing when he barks, you can take steps to minimize their negative effects.  Click here for eBook.
Treating separation anxiety in dogs is not quick or easy but it can be done. The successful ingredients are cooperation, commitment and time on the part of the dog trainer and the owners. In this important new book, author Malena DeMartini-Price shares her 5 Phase Treatment Protocol and related strategies to help dogs overcome the fear of being left alone and addresses the trauma it can inflict on both the dog and their owners. Trainer handouts, detailed step-by-step training tips and a sample initial interview questionnaire are included.   Click here for eBook.
Dogwise Publishing is pleased to reunite again with Pat Miller for the publication of her second volume of Positive Perspectives, a collection of her recent articles. This collection is more advanced than volume one, with particular emphasis on understanding the latest in canine behavioral research so that you can become a more effective trainer and/or owner. Written in Pat's understandable but sophisticated style, Positive Perspectives 2 presents the latest "positive" thinking on body language, training and behavioral concepts, teaching behaviors, problem behaviors, and aggression.  Click here fore eBook.
Finally a comprehensive guide for the pet professional working with off-leash playgroups. A great book for training staff on key aspects for safe dog management.  Click here for eBook.
At last, a simple way to teach your dog to walk on a leash without pulling your arm off!  Click here for eBook.
Does your dog go bonkers when the doorbell rings or when you grab the leash to take him for a walk? If you find your dog is often difficult to control, you are not alone! Getting your dog to calm down and relax is one of the most common challenges pet parents face. This two-part book will help you first identify the factors that cause this kind of behavior in dogs, then it provides you with eleven key training exercises to teach your dog how to calm down, pay attention to you, relax, and respond to every day situations with confidence and composure. Chill Out will show you how to help your dog become the great dog you always knew he could be.  Click here for eBook.
Plenty in Life is Free: An Alternative to Rank-based Training Models.  Click here for eBook.
Written to help you maximize the joy of living in a multi-dog household, Feeling Outnumbered uses the study of animal behavior and positive training methods to teach your dogs to be polite and patient instead of demanding and pushy. Filled with practical ideas about keeping life fun in houses with two or more dogs, this book is a great resource for all multiple dog owners, whatever their level of training experience.  Click here fore eBook or DVD.
Winner of The Merial Human Animal Bond Award
Winner of the 2008 Indie Book Awards for Animals/Pets
Winner of the IIACAB Award for 2007 Best Dog Book (Misc.)
Click here for eBook.
Yawning, lip-licking, sneezing, even scratching are just a few of the 30-plus signals that dogs use to communicate with one another. With On Talking Terms With Dogs you can learn to recognize these signals and use them yourself to interact with your dog.  Click here for eBook or DVD.
Your dog truly rules when it comes to scenting ability, but you hold the key to allow him to learn how to more fully explore his kingdom. And that key is your willingness to work with him in what dog trainers call nosework exercises and games. While your dog has a wonderful innate ability to scent, nosework will present fun and interesting challenges which will make your dog more physically and mentally fit as well as to help solidify your relationship with your dog.  Click here for eBook.
Pat Miller's How to Foster Dogs is the first book on the market to deal specifically with the care and training needs of foster dogs and how the fostering process works when done through a formal arrangement with an organization like a shelter or breed rescue group.  Click here fore eBook.
Taking your dog to a dog park is a great way to exercise and socialize your canine companion. Dog parks offer fresh air, open space, and freedom a chance for your dog to be a dog. But not all dogs enjoy the experience and not all dog parks are safe for your dog. Visiting the Dog Park gives you inside information on deciding if your dog is ready for a dog park outing, whether the design of the park makes for safe play, and teaches you simple things you can do to prepare for a great dog park experience.  Click here for eBook.
In The Human Half of Dog Training, author Risë VanFleet draws upon her years of experience of working with people as a child and family psychologist to teach dog trainers how take a collaborative approach with clients to help insure the best possible outcomes for their dogs.  Click here for eBook.
German author Mechtild Käufer presents findings from scores of researchers worldwide who study why dogs play, the benefits they get from play and how to recognize the rules of play that dogs follow to keep their play behaviors fun and safe. For those wanting to research this subject more, the book is thoroughly referenced. There are dozens of color photographs included to help illustrate the actions of dogs at play.  Click here for eBook.
Having spent years employed at Wolf Park, in Indiana, authors Jessica Addams and Andrew Miller have encountered hundreds of so-called wolves that turned out to be dogs, hybrids that exhibit the characteristics of both wolves and dogs, and even pure wolves that act like dogs. Between Dog and Wolf takes a fascinating look at how wolves and dogs are related, why they can be so hard to tell apart and what rescue organizations need to know when they encounter a canine of unknown origins.  Click here for eBook.
Trainer and author Nicole Larocco- Skeehan's new book is the first to explore all aspects of what trainers need to know about using teaching dogs to make the job of learning new behaviors and problem solving easier for both human and canine clients including the roles they can play as well as the types and breeds that work best for the tasks you want them to do.   Click here for eBook.
Sharing life with a deaf dog is not only possible but rewarding…especially with the book that has become known as "the deaf dog Bible."  Click here for eBook.
For most dogs, play comes naturally, while for others, play is something they need to be taught. Play helps dogs learn to interact properly with other dogs and people. It helps sharpen their social skills and provides excellent physical and mental stimulation. In addition to being just plain FUN, play is a great way to help build a solid relationship between you and your dog and can be a great training tool.  Click here for eBook.
The Association of Professional Dog Trainers, APDT, is the largest group of professional dog trainers in the world. Over the years its newsletter, The APDT Chronicle of the Dog, has published some of the best information on dog behavior, dog training, and the business of being a dog trainer available anywhere. Now this valuable information 80 articles by 40 authors is brought together in The Dog Trainer's Resource.  Click here for eBook.
When the first volume of The Dog Trainer's Resource was published in 2007, it became a resounding success among professional dog trainers and behaviorists. It also introduced a new generation of dog trainers to the profession and started them on the road to success with information from experts in the field. This new volume, The Dog Trainer's Resource 2, contains more cutting edge information collected from dog training's most influential magazine, The APDT Chronicle of the Dog, published by the Association of Professional Dog Trainers.  Click here for the eBook.
This Chronicle is designed to help new and experienced dog professionals learn from the most progressive thinkers in the world of dog behavior and training as well as the most successful business people in the field. In this volume, containing the best articles from the past few years, The Dog Trainer's Resource 3 places a special emphasis on developing skills in areas where many trainers may lack experience, like specialized training protocols and improving business practices for profitability and longevity.  Click here for eBook.
Norwegian dog trainer Turid Rugaas is a noted expert on canine body language, notably "calming signals" which are signals dogs give other dogs and humans that denote stress. These are dogs' attempt to defuse situations that otherwise might result in fights or aggression. The video shows footage of many calming signals, how dogs use them, and how you can use them to calm your dog. This is the video format and companion to the popular book, On Talking Terms with Dogs.  Click here for Digital Download.
Authors Cheryl Smith and Mandy Book have a written step-by-step training manual to help you apply clicker training to a wide range of basic and fun dog behaviors no matter what your experience level. The focus is on getting results to get you and your dog clicking!  Click here for eBook.
The next generation tool for clicker training. Has a quiet click for classes or for sound-sensitive animals, but still works for dogs that have been trained with the original clicker. Designed to let you click no matter how you happen to grab hold of it – upside down, sideways, right side up. You can click with your thumb, with your palm, even with your foot, with gloves on, etc. Drop it on the floor and you can click with your foot because it always lands in a clickable position. Strap it to a wheel chair and click with your palm or chin. Requires minimal pressure to click, but is balanced so you aren't apt to click early or mistakenly. Small enough to hide in your palm. Assorted colors.
Dogs have deliberate, subtle, and often humorous ways of expressing themselves. Canine Behavior – A Photo Illustrated Handbook includes 1,000 images of dogs, wolves, coyotes, and foxes. It was created for everyone interested in dogs pet owners, trainers, veterinarians, ethologists, and behaviorists. Using the interdisciplinary language of photography, Barbara Handelman illustrates and explains canine behavior and communication. Her book establishes a common understanding and vocabulary for people interested in, and working with, dogs.
Clarissa von Reinhardt has been working on the issue of how to deal with unwanted predatory behavior for many years. In this fascinating and inspiring book, she takes the readers step by step through her training methods, inviting them to learn more about a dog's complex spectrum of behavior, and ultimately to maintain as much control as possible over the urge to chase prey.  Click here for eBook.
What is your dog's body language saying to you and to other dogs?
Is he showing friendliness, fear, or stress?
When does play turn to aggression?
This educational video features a lively presentation and extensive footage of a variety of breeds showing hundreds of examples of canine behavior and body language.
When dogs meet they communicate with each other with their body language. Through video clips and written narrative learn how to evaluate interactions between dogs and how to identify least risky and most risky behaviors. Includes a step-by-step on-leash assessment procedure to help determine whether a dog is safe around other dogs. Illustrated with examples of on-leash and off-leash interactions.  Click here for Digital Download.
Let Dog Friendly Gardens, Garden Friendly Dogs show you how to design your garden with your dog in mind and be your guide to dog-friendly landscaping and training efforts.  Click here for eBook.
Stress in Dogs is the first book to analyze, explain, and help you resolve stress in the lives of our canine companions. Written for both the canine professional as well as concerned dog owners, the information in Stress in Dogs can improve the lives of dogs as well as humans with a sound approach to resolving stress-related problems.  Click here for eBook.
Trainers and animal behaviorists around the globe consider Pam Reid's Excel-erated Learning one of the most important and influential books ever written in the field of dog behavior. Although that's a hard act to follow, Dog InSight, Pam's second book, does not disappoint. In over forty fascinating essays, Pam explores a wide range of topics, including learning theory, training techniques and behavior problems.  Click here for eBook.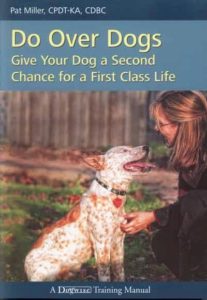 What exactly is a Do-Over Dog? It might be a shelter dog you're working with to help her become more adoptable. Perhaps it's the dog you've adopted, rescued, or even found running stray who is now yours to live with and love forever. Or it could be the dog you've lived with for years but you realize he still has issues that make him a challenging canine companion. A Do-Over Dog is any dog that you think needs make that deserves a second chance in life.  Click here for eBook.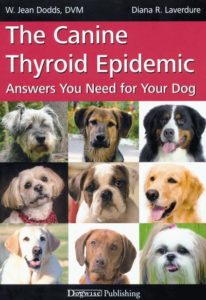 Noted veterinarian Jean Dodds and co-author Diana Laverdure have done the dog owning public and their vets a great service by writing The Canine Thyroid Epidemic. The book is written in such a way to inform both the average dog owner and animal health care professionals about the ways in which thyroid disorders occur, can be prevented and treated.  Click here for eBook.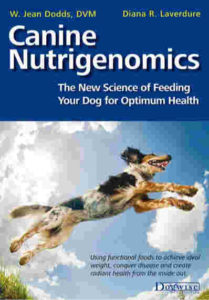 Scientists now know that while we can't change the genes we are born with, we can change how those genes behave, which is exactly what authors W. Jean Dodds, DVM and Diana Laverdure show us how to do in their newest book, Canine Nutrigenomics: The New Science of Feeding Your Dog for Optimum Health from Dogwise Publishing.  Click here for eBook.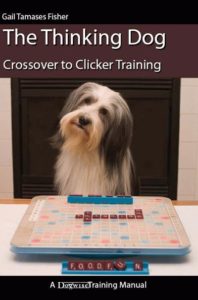 It is such a joy to work with a dog who proactively engages in behaviors while you build a relationship that will surprise you in its depth and versatility. Clicker training has proven to be the most effective means of developing a Thinking Dog, one who offers behaviors in anticipation of a reward rather than a dog who has been trained only to wait for his owner's commands. One of the biggest obstacles the new clicker trainer faces, however, is his or her own history of training and habits of working with a dog. But you can make the transition once you understand how dogs learn and the mechanisms of operant conditioning. Learn from author Gail Fisher's crossover experiences as well as those of the hundreds of students she has helped make the change over the past thirteen years. Click here for eBook.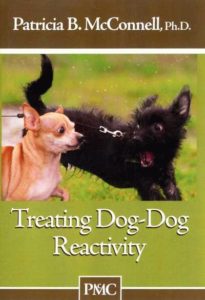 Do you find yourself not wanting to take Maggie on walks because you don't like the way she reacts to other dogs? Does Barney growl, bark, or lunge when on-leash when he sees other dogs? There are several motivations for Dog-Dog Reactivity and this DVD covers how to treat them all using state-of-the-art, positive methods, including Counter Classical Conditioning, and On-Cue & Off-Cue Operant Conditioning. This half-day seminar contains informative slides, numerous videos, and live demonstrations of Patricia working with real dog-dog reactive dogs for the first time. This is a great DVD for both trainers and novice dog owners alike.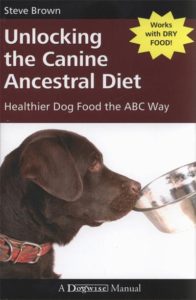 Ancestors and canine cousins of our dogs didn't eat krunchy kibble or meat n gravy in a can. They ate what they found or caught… and it wasn't cooked or enriched either! It was high in protein, with balanced fats, and usually included a few fruits, vegetables and grasses. Steve Brown, an expert on canine nutrition, shows how you can bring the benefits of the canine ancestral diet to your dog by feeding him differently as little as just one day a week. And no, you won't need to lead a pack of dogs on a hunting expedition! Just follow Steve's well-researched and easy to follow ABCs to make improvements to whatever your dog currently eats.  Click here for eBook.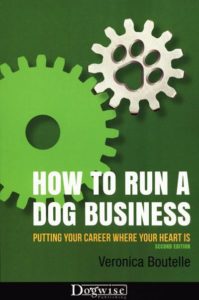 Veronica Boutelle, the industry's top consultant, writes for the non-business savvy dog pro, sharing the detailed information you need to start, operate, and prosper in the dog world in clear, easy-to-read language. This second edition, incorporating Veronica's ten years of experience helping dog pros succeed, included additional advice on packaging services, setting policies, and avoiding burnout, an expanded marketing chapter and resources section, and two entirely new chapters covering online marketing and developing the perfect staff.  Click here for eBook.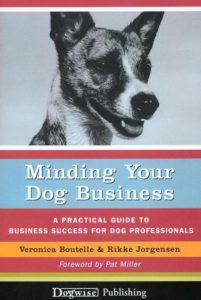 Setting up and running a successful dog-related business is an achievement in itself, but building a business with staying power that can succeed over the long run is the ultimate test for a dog pro. dogTEC's Veronica Boutelle and Rikke Jorgenson new book will help guide you as you work to build your dog business, whether you are a trainer, a dog walker, a dog sitter, or a daycare owner. Of special interest to many of you dog pros will be the up to date information on the latest in marketing technologies and techniques as well as how to manage your business during economic downturns. Click here for eBook.
Learn how to conduct behavior assessments including what to look for in the dogs behavior, how to document areas of concern, and how to determine if problem areas can be improved using behavior modification techniques. Rescue groups and shelters will find this information useful and safe to apply. Am I Safe? also explores the validity of assessment protocols and why they are important for anyone involved in the re-homing of companion animals.
Are you looking for a new and meaningful way to work with your dog? Do you want to improve the lives of those who would benefit from visits with a volunteer canine therapist ? Then think about becoming a Therapy Dog team. The 2nd edition gives you all the information you need to select, socialize and train your dog for this important and rewarding work. Learn about certification, liability, and getting started. Includes a complete course outline for teaching therapy dog classes!

Sociability is a key predictor of a dog's potential for aggression. Sue Sternberg's Assess-A-Pet Temperament Test is a humane and effective method for reading sociability and aggression in dogs. This is an essential tool for determining which dogs are safe and appropriate for adoption.  Click here for Video on Demand.
One of the most difficult aspects of being a pet owner is making end of life decisions for beloved dogs and cats. While many end up deciding to put their pet to sleep, the euthanasia procedure remains a mystery for most people adding to the stress and fear an owner experiences at this critical time. Author Julie Reck is a veterinarian who has devoted her professional career to helping owners make more informed decisions about euthanasia. In Facing Farewell, you will be provided with a complete description of the euthanasia procedure so that you will know what to expect and be confident that you have made the right choice for both you and your pet.  Click here for eBook.
Use massage to help your dog relax, to condition the canine athlete, to assist in recovery from injuries or to ease chronic pain. Learn the techniques of a recognized expert in the field so that you can bring the well-known benefits of massage to your dog or become a canine massage professional. Canine Massage, A Complete Reference Manual, 2nd edition has dozens of photos and illustrations that will guide you every step of the way. Click here for eBook.